Tool kit for machine tools KZh-20 and their modifications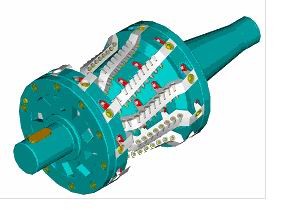 1.Frequency cutter for processing profiles of rims of wheel sets (right and left)


The design is protected by patents of Ukraine for invention No. 25091A, 75010.
A distinctive feature is that the cutting carbide inserts are located in the corresponding zones of the profile of the cutter blades from the condition of constant loading during metal removal and ensuring minimum roughness of processing.


2. Stand for setting shaped milling cutters


The stand for the configuration of shaped milling cutters allows changing the knives and adjusting the carbide plates RNGX 1212MO in the conditions of the depot with an accuracy of ± 0,01mm.