Electric locomotive AM8D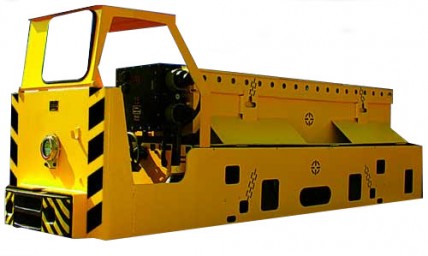 Accumulator electric locomotives are intended for transportation of trains of trolleys on narrow-gauge underground railways in the main haulage openings of mines, hazardous for gas and dust, where the operation of electric locomotives in the mine version of the increased reliability of RP, P.
The AM8D electric locomotive is a two-axle locomotive with an individual frame suspension and with one cabin. The twin electric locomotive 2АМ8Д consists of two biaxial sections connected by a hinged flexible coupling with two cabs at the ends of the sections. The electric locomotives are equipped with a stopless control system with battery sectioning and an electrodynamic braking system. The energy source are batteries.
Technical characteristics of AM8D electric locomotive

| | |
| --- | --- |
| Options | АМ8Д |
| Track, mm | 600,750,900 |
| Mass, t | 8,05; 8,7 |
| Length mm | 4550 |
| Height mm | 1415 |
| Width, mm | 1055, 1355 |
| Hard base, mm | 1200 |
| Clearance, mm | 100 |
| Hour mode settings | |
| Traction engine power, kW | 21 , 26 |
| Traction force, kN | 12,1; 12,2 |
| Speed km / h | 5,7; 6,8 |
| Long mode options | |
| Engine power, kW | 11,2; 13,4 |
| Traction force, kN | 4,67; 4,61 |
| Speed km / h | 8,2; 10 |
| Control system | Coreless with battery sectioning |
| Braking system | Electrodynamic shoe |
| Type of energy source | Rechargeable batteries |