Оказываем услуги вибрационной стабилизации остаточных напряжений мобильным оборудованием с компьютерной диагностикой и документированием процесса.
В Японии и Германии создали новый жаропрочный сплав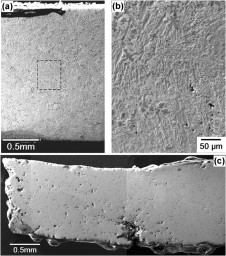 The MoSiBTiC alloy mainly consists of three phases: Mo-rich Mo ss solid solution (Mo base with 2.5 at.% Ti and 1.9 at.% Si, crystal structure: bcc), which looks like a white contrast; an intermetallic compound of the type Mo 5 SiB 2, known as T 2 (crystal structure: D8 l), which looks gray; and carbide (Ti, Mo) C-type (crystal structure: NaCl-type), which looks like a black contrast. A large particle with a "1" mark reveals the dendritic nature of the particle as a result of its history of formation during solidification.
Details on:
https://industriya.com/posts/104-uchenye-iz-japonii-i-germanii-sozdali-supersplav-stoikii-k-vysokim-nagruzkam-i-temperature.html