Оказываем услуги вибрационной стабилизации остаточных напряжений мобильным оборудованием с компьютерной диагностикой и документированием процесса.
Tool for processing of automatic couplings, bolster bars and rods wagons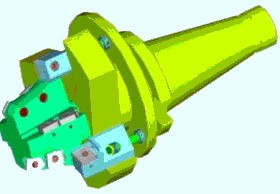 Our company has developed and produces special cutters for the machining of auto couplers, bolster beams and traction of passenger and freight cars in the process of depot repairs.
This tool improves the processing performance and reduces the cost of depot repairs.
Milling cutter ∅180 for machining large and small teeth of the auto coupler body.

Cutter for machining the groove (jumper) of the shank of the auto coupler body
Cutter diameter - 36 mm
Cutter length - 150 mm


Cutters for machining radius R 65 mm and surface R 70 mm for pulling passenger coaches after surfacing from two units