Single-roll crusher DO-900 × 700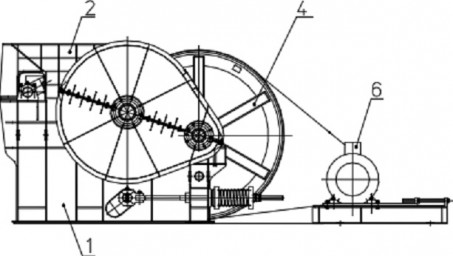 According to the technical task of the customer, a crusher for grinding coal with the following characteristics was developed and manufactured:
Crusher type DO-900x600 is designed for coal crushing

1.1.2 The crusher consists of a support frame, a hopper, a toothed shaft, a drive shaft, a grate with spring-loaded drafts and a drive.
1.1.3 The rotation of the toothed roller is carried out from the electric motor through the V-belt transmission and then through the gear transmission.
1.1.4 The material is loaded through the receiving hole of the hopper, after which the crushed material is fed into the crushing zone between the toothed roller and the grate.
1.1.5 Unloading of the crusher is performed through the grate slots.
1.2.Technical data
Conventional designation of a single-roll crusher with a diameter of a toothed roller 900 mm and a length of a toothed roll 600 mm:
Single-roll crusher DO-900x600

The main technical data is given in the table1
Table 1
Name

Value

1 Fractured material

coal

2 Productivity, t / hour

20…40

3 The size of the incoming piece, mm

400х400х600

4 Size of crushing product, mm

0…100

5 Диаметр зубчатого валка, мм

900

6 Длина зубчатого валка, мм

700

7 Электродвигатель, тип

АМУ225М8

7.1 Power , kWt

22

7.2 Частота вращения, об/мин

750

8 Клиноременная передача

8.1 Ремень, тип

С(В)-6300IV

8.2 Передаточное число

5,08

8.3 Количество ремней, шт.

7

9 Зубчатая передача

9.1 Модуль, мм

7

9.2 Передаточное число

5,7

10 Смазка

10.1 Подшипников скольжения – пластичная от шприца, тип

ЛИТОЛ 24
ГОСТ 21150-87

10.2 Зубчатая передача – пластичная закладная, тип

Графитная УСсА ГОСТ 23258-78

11 Габаритные размеры

12 Масса