Boring and rolling tools
Our company is one of the few in the world who has a long-standing scientific and design school for the development of a boring and roll tool for machining internal cylindrical surfaces, including deep ones.
According to the technical task of the customer, we develop and manufacture any boring and rolling tools.
The tooling system for finishing machining of internal cylindrical holes is intended for installation on turning, deep-drilling or deep-boring machines and consists of a boring and rolling tool. A boring tool consists of a guide head (Fig. 1) into which a replaceable tool can be installed - a boring head, a head with draft and floating scan:

Fig.1
The guide rail consists of a housing 1 with a connecting part for the stem flange. To facilitate the installation and removal of the rail head, a special mechanism is installed on its body, which consists of a nut, pos. 2, the holder pos. 3, the collet pos.4, bushings pos.5. In the slots of the housing 1 for centering the head of the guide are installed interchangeable inserts 6. The tool heads are fastened with two screws 7.
The design of the boring head is shown in Figure 2. The cutting head consists of a body pos. 1, screws pos. 2 and 3 for fastening the incisors and screws pos. 4 to adjust the incisors to the specified size
Fig. 2
The head design for the floating sweep is shown in Figure 3. The head for the floating sweep consists of housing with a groove for placement of the scan and cover.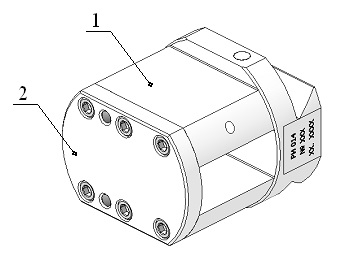 Fig.3

The roll head with adjustable diameter is designed for finishing and hardening the processing of cylinder liners on universal turning screw cutters. It can be used on deep boring machine

Fig.4

Diameter of the hole to be machined (adjustable), mm
- the smallest ………………………………….
- the largest ……………………………………
Characteristics of the working fluid:
- kinematic viscosity, m2 / s …………… (9… 17) × 10-6
- filtration fineness, micron ………………… 25
- cleanliness class accordingly
in accordance with GOST 17216-71, not lower than
Weight, kg ………………………………………….
Designation and characteristics of rolling
| | | | |
| --- | --- | --- | --- |
| Designation | Name | The diameter of the processed holes., mm | weight,kg |
| 3101-130-100 | Roll head | 60…70 | 2,6 (3,5) |
| -01 | Roll head | 70…90 | 3 (3,8) |
| -02 | Roll head | 90…120 | 4,7 (4,9) |
| 3101-130-200 | Roll head | 120…160 | 8,2 (8,6) |
| -01 | Roll head | 160…250 | 10,5 (11,2) |
| -02 | Roll head | 250…400 | 14,2 (14,6) |
| 3101-130-300 | Roll head | | 17,5 (23) |
| 3101-130-400 | Barbell | | 7,2 (7,66) |
| 2099-4830 | Clamp | 35 | 9,5 (11) |
| 2099-4830 | Knurling | | |