The hydraulic puller of the gear of the traction motor of the locomotive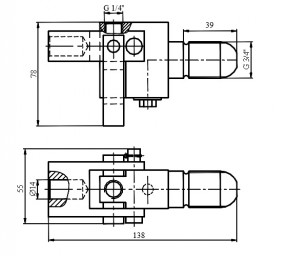 Our company produces hydraulic pullers of gears of traction engines of locomotives.
GENERAL INFORMATION ABOUT THE PRODUCT
Product Name: Hydraulic puller
Designation: SG 004
MAIN TECHNICAL DATA AND CHARACTERISTICS
Purpose: the pressing of gears from the shafts of traction motors.
The connecting thread is G ¾. (or M27 x 2 with a length of 25 mm)
The pressure developed in the puller cylinder is 50 MPa (500 kgf / cm2).
Working fluid: industrial oil I-20A GOST 20799-88.
Overall dimensions, mm:
length .................................... 135
width…………………. 50
height without pump ......... 75
height with pump ......... 240
USE ON DESTINATION
To fill the feeder, unscrew it from the stripper. Immerse the tip of the feeder in the oil and pull the piston to its extreme position.
Rotate the feeder with the tip upwards and gently push the ball of the tip into the inside to release the air that has fallen into the oil.
Screw the puller into the central hole of the shaft, from which it is necessary to press the pinion and tighten it.
Feeder screw into the body of the puller.
To remove the gears, inject oil into the gearing area of the gear with the shaft until the oil seeps onto the end face.
COMPLETENESS
Package Included:
Hydraulic puller СГ 004 ............ 1 шт.
Passport ................ ..................... .. ... .. 1 pc.