Оказываем услуги вибрационной стабилизации остаточных напряжений мобильным оборудованием с компьютерной диагностикой и документированием процесса.
Electric locomotive, contact K-14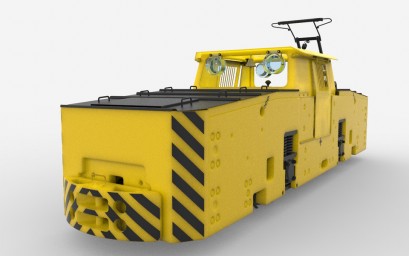 The mine contact electric locomotive K-14 is a self-propelled traction device driven by electric motors that receive energy from an external power source through a contact network. It is intended for haulage of freight and passenger trains of trolleys for the main haulage mines, in which the operation of contact electric locomotives is permitted by current safety regulations.
The electric locomotive of the contact type K-14 is intended for transportation of compositions by underground mine workings of mines and mines with inclination to 0,005 and radii of rounding of rail ways not less than 12 m.

| | |
| --- | --- |
| Model | К14 |
| Track width, mm | 750/900 |
| Clearance, mm | 90 |
| Rigid base, mm | 1700 |
| Traction force in time mode max, kN | 25 |
| Slope. | 0,01 |
| Min radius of curvature, m | 18 |
| Speed of movement in time mode, km / h | 12,8 |
| Power supply voltage, V | 250 |
| Wheel diameter, mm | 680 |
| Total drive power, kW | 2x45 |
| Compressor output, l / min | 400 |
| Working pressure of air in the pneumatic system, MPa | 0,45 |
| Mass, t | 14 |
| Overall dimensions (length by frame x width of the body x height from the head of the rail on the cockpit) | 5210х1350х1650 |