Galvanic machining of parts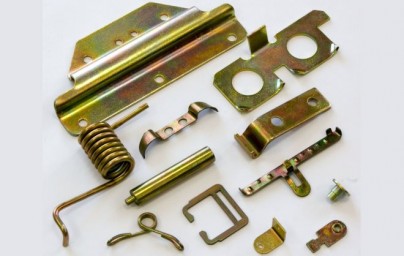 Our company offers services:
- Electrolytic galvanizing of parts and components up to 1.5 m long with subsequent blue passivation, which meets European requirements of DIN EN12329
-Multi-layer protective and decorative coating of steel parts "copper-nickel-chrome" with preliminary grinding and polishing the surface.
Restoration of the coating of the coded parts and units of "retro" cars according to the scheme
- removal of the old coating;
- grinding and polishing;
- coating "copper-nickel-chrome".
Hard chromium plating of steel parts with a length of up to 1.0 m.
Coating with tin-cadmium alloy steel, aluminum and copper parts.
Chemical nickel plating of aluminum, copper and steel parts.
Chemical oxidation (bluing) of steel parts.
Electrochemical oxidation (anodizing) of aluminum parts with dyeing of the film.
Chemical oxidation (chemical. Ox. Fluor.) Aluminum parts.
Removing burrs in a circular vibrator R-220 firm "Rosler" (Germany).
Polishing of small parts in the centrifugal installation FKS1-1A of the company "Rosler" (Germany).
Painting parts and assemblies with powder paints in accordance with the European RAL scale.
Production of faceplates of examples, information plates and nameplates using screen printing.
Galvanic electrolytic galvanizing of parts and assemblies up to 1.5 m long is performed on a modern automated galvanic galvanizing line on hangers.
The line includes 4 alkaline galvanizing baths with dimensions of 1600x900x1200 mm.
The program introduced 3 modes of galvanizing 6 microns, 9 microns, 15 microns.
The capacity of the line with a coating thickness of 6 microns - 150 sq.m / 8 h.
On the line, an environmentally-friendly brilliant, cyanide-free zincing process developed by Columbia Chemical was introduced. A feature of the electrolyte used in this case is the selection of the components of Koltsink ACF-2 additives, in the aggregate of parameters superior to almost any such system.
The coating of this electrolyte is perfectly amenable to chromating and other types of treatment after galvanizing, they have excellent gloss and do not darken with time. Quality complies with international standards.
There is a possibility of applying high-quality zinc coatings on cast iron and high-carbon steels that are difficult to galvanize, cemented, heat-treated, etc.
Finishing zinc coating is carried out in the blue passivation of the company "Metal-Chemistry" (Austria-Germany). Passivation does not contain 6-valent chromium compounds, has high anticorrosive protection for up to 96 hours according to DIN EIN ISO 9227 NSS, creates a blue glossy passive film on galvanized zinc coatings.