Electronic rolling diameter meter OID-3M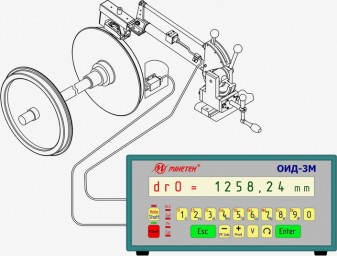 Electronic rolling diameter meter OID-3M
Engineering industry products
Products for the railway
OID-3M is a system, the measuring unit of which is installed in the tool holder or in the moving elements of the machine carriage. With the help of this device, it is possible to carry out measurements both during machining during feed movement and without it. The measuring system makes it possible to control the deviation of the shape with a high accuracy in the longitudinal section of the part, thereby making the correction of dimensions.
Display unit
Sensor Installation
Technical characteristics of the device OID-3M
| Parameter name | The designation of a unit of physical quantity | The value of a unit of physical quantity |
| --- | --- | --- |
| Range of measurement of external diameters | мм | from 400 to 10000 |
| Range of measurement of internal diameters | мм | from 500 to 10000 |
| Range of measurement of circumferential speeds | m / min | from 20 to 150 |
| Range of measurement of ambient temperature | °С | from +5 to +50 |
| Nominal price of the unit of low order of measurement: | | |
| diameters from 400 to 10,000 mm after the first revolution of the part | мм | 0.01/0.001 |
| diameters up to 4000 mm inclusive in the basic mode | мм | 0.01/0.001 |
| diameters in excess of 4000 mm in the basic mode of circumferential speeds | m / min | 0.1 |
| ambient temperature | °С | 1 |
| Limit of permissible error of measurement of diameter D: | | |
| in the basic mode for diameters from 400 to 3150 mm | м | ±0,45 х D х 10-5 |
| in the basic mode for diameters over 3150 to 10,000 mm | м | ±0,4 х D х 10-5 |